HOW TO HIDE YOUR RING BOX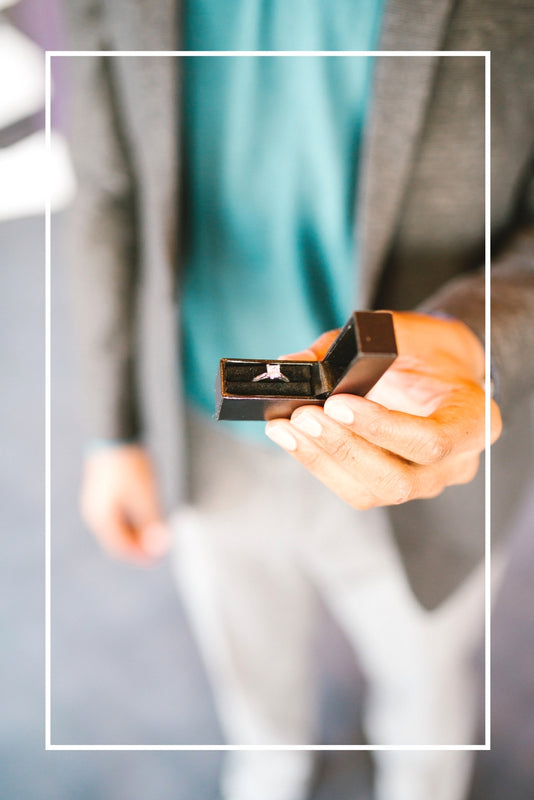 The Story Inside The Pocket
MEET BOX SOCK.
THE POCKET SOCK THAT HIDES YOUR ENGAGEMENT RING BOX. 
It all started with that iconic down on one knee moment! Invented by the founder of The Yes Girls, who plan proposals for a living, the Box Sock has a small but mighty pocket on the side of it, so men can hide their engagement ring perfectly. After watching thousands of clients struggle to hide the ring in a safe yet unnoticeable place, our team of proposal experts, created this game changing solution.
A ring box in your jacket or a loose ring in your pant leg is a dead giveaway (and quite the stressor). As proposal planners we saw it first hand too many times. A neatly designed sock with a pocket? Now we're onto something. Just like any TYG venture we wanted to give our clients a creative, unique, and quality solution exactly like their engagement. Each sock design has its own character and a hidden pocket to easily keep your thin engagement ring box safe and hidden. The pocket's elasticity is engineered to carry the ring box and comfortably remove when proposer gets down on one knee. Keeping the proposal a surprise just got easier with our perfect Box Sock + Thin Ring Box duo.
SHOP
HOW IT WORKED FOR THESE GENTS' PROPOSALS
"Don't think there is a more clever or awesome sock to get engaged in. We walked around a lot the day I was proposing and the ring was secure in the pocket the entire time.  She was so surprised when I got down on my knee to pull out the ring! She loved it!"
 Proposed in Orange County 7/23
"The "Marry Me" socks added the perfect extra touch to my proposal. The socks themselves were made of good quality and were very comfortable. I had the slim ring box in the sock pouch literally all day and could not even tell it was there. A few times just for my own sanity I would touch the area to make sure the ring was still there and it was there every time and felt very secure. My proposal day involved some horseback riding and throughout the ride I never once worried about misplacing the ring or the box popping out. The best part is that the socks are stylish so you can get continued use out of them after the fact. I was very satisfied with the socks and ring box and have zero complaints."
Proposed in Dallas 8/22
"The day of the proposal I was taking her wine tasting. I was worried my girlfriend (now fiancee) would see the ring in my pant pocket so the Box Sock worked perfectly to keep her ring box hidden as we were walking around the winery. I told her I felt something in my shoe, knelt down and slide the ring box right out in front of the vineyards. It was awesome."
Proposed in Napa 1/18